WHAT TO EXPECT AFTER YOU HAVE BEEN INVITED TO VENETIAN-THEMED MASKED BALL
You are reading this because you have been invited to a masked ball and have never been to one before. Your questions could be endless, and you are frantic, Googling it on Yahoo, trying to find out exactly what happens at a Venetian-themed masquerade ball, what do you wear to which type of mask should you choose. Ladies and gentlemen, you may even be wondering how to do your hair and makeup to compliment your mask
We have been in the masquerading business for over 15 years, and have produced a number of articles on a whole range of subjects connected to this arm of the party scene. Here we have covered some of those frequently asked questions:
WHAT HAPPENS AT A MASKED BALL?
The basic format of a masked ball is pretty much the same, regardless of whether it is a black tie ball, a ball organised in aid of Charity, you are on a cruise, and joining the captain at his masquerade-themed night or you are going to the school prom. You enter the venue wearing your mask where you gather for canapes and drinks. You then move to the dining area where you remove your mask and sit down to a meal. After you are fully fed, and sufficiently lubricated, you don your mask and join the crowds on the dance floor. We covered this, back in 2016, in more detail under our blog What to expect at a Masquerade Ball

WHAT TO WEAR TO THE BALL

Now you know what is going to happen you probably want to ensure you are going to turn up in appropriate clothing and be dressed accordingly. We can put your mind at rest, generally, there are no rules, unless these are stated on your invitation.
The usual attire is black tie for the men and best party dress for the women, or smart casual, which covers everything except shorts, T-shirt and trainers.
For a more comprehensive run down check our article on Dressing for a Venetian masked ball
PICKING THE RIGHT TYPE OF MASK
An apparent minefield, but when you delve deeper, it's as simple as choosing whichever mask you like. General rules, a half face mask, if the ball is black tie dress, or any mask, full face, half face, Venetian character, elaborate or simple, if the ball is a masquerade-themed party such as a special birthday or a Charity ball held with the primary aim of raising funds. We covered this extensively in our most popular blog Picking the Right Mask but if you keep in mind that all masks are for all people, as the Venetians will tell you, a mask was originally worn to hide your identity. If you want to know more then read our article on Types of Venetian masks and their Origin
There are no rights and wrongs, apart from if the event is masquerade-themed, then wear a mask
HOW TO DO YOUR HAIR WHEN WEARING A MASK
Mainly for the women, but we won't exclude the men here. You have picked your mask and you certainly don't want it to ruin your hairstyle.

All masks come with ribbon ties. If you want to hide the ties then start by tying your hair up then place the mask on your face, put the ribbons over your ears and under your hairline. Tie in a bow and then drop your hair down over the bow. Men with a lot of hair can follow these same rules.
If you are going with a more elaborate style then use the bow to incorporate it in the style along the lines of a fascinator. We have covered, in more detail, a few hairstyles in an earlier blog for women on hairstyles that look good with a mask
Men with little, or no hair, cannot hide the ties unless you wear a hat. If this is an option then, sticking with the Venetian theme, go with a three cornered hat, known as a Tricorn hat.
MASQUERADE MAKEUP TIPS
It seems alien to prepare your makeup to perfection only to then cover half your face with a mask. We covered an in depth look at how to prepare your makeup for wearing a mask earlier this year but as a rule, if you are a heavy foundation wearer then go with a mask from the Filigree metal range. These are lacy and allow the face to breath. As an added bonus these are also the most comfortable masks to wear as they are pliable and mould to all shaped faces. If you have beautiful eyes then pick a mask that doesn't have feathers which can detract from those beauties.
Wearing a mask is all about the lips. Take the time to add the WOW factor and go bold, but make sure the colour matches your mask. Your usual colour lipstick may not be the best colour for you once you have donned your mask
HOW TO WEAR YOUR MASK
Finally, traditionally Venetian masks were worn to conceal your identity but today masquerade party is more about adding a fun theme to an event. Be traditional and wear your mask with pride or be inventive and wear your mask differently.
There are no rules on how you wear your mask, the only rule is you wear a mask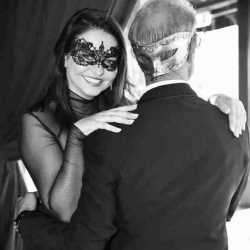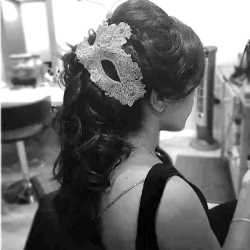 YOU ARE NOW READY FOR THE PARTY
You have all the information you need and if you are still not convinced about wearing a mask.
We hope you found this article useful in your preparations for the Ball, now it's time to embrace the party invitation that says "you are Cordially Invited to a Masked Ball"