With the kids back at school and only a month away from Halloween, we thought it was a good idea to update our Halloween Costume Ideas, where, last year we picked characters that you could emulate such as The Devil, and Pennywise from Stephen King's It, The Joker from Batman, Michael Myers from John Carpenter's Halloween and Norman Bates' Mother from Psycho, along with mentions of Phantom of the Opera, Plague Doctor, Day of the Dead and Vendetta Masks
This year we are looking at our top 10 choices of masks for your Halloween masquerade ball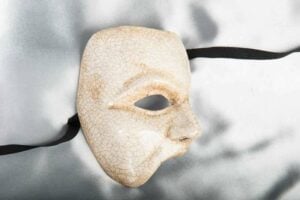 PHANTOM OF THE OPERA MASK
Straight out of Andrew Lloyd Webber's musical by the same name, these masks, also known as Fantasma, come in a variety of materials and designs. The defining feature of Phantom, or Fantasma, masks are they cover half the face, originating from the movie where Erik's face has a birth deformity. If you want a simple Halloween masquerade outfit, then this mask fits the bill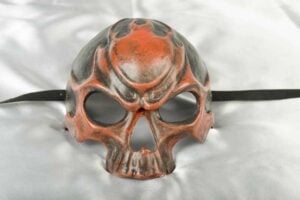 SKULL OR SKELETON MASKS
Masks that cover the forehead and cheeks, with large eye sockets the mask finishes at the top of the mouth with sculptured upper teeth. The Teschio, Italian for Skull, is a menacing-looking mask that has a scary look, you won't need any other Halloween costume for your horror night.
If you want to go one stage further then use stage makeup on your lower jaw to give you the iconic moving jaw mask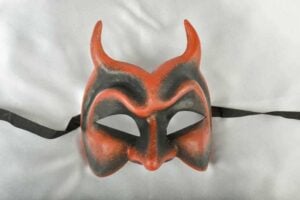 DEVIL MASKS
We all have a little bit of the devil in us, so what better way to bring this out than with a Devil mask. Diavolo or Demone in Italian, the classic idea of a devil is a person with horns. If you want to masquerade as the Devil then choose from our comfortable black leather Devil mask for a man or the leather Fenice mask for the ladies. For something more sophisticated choose the filigree metal Vampiro, Italian for Vampire, available in a budget or luxury version. These masks can be worn at an upmarket Halloween masquerade ball or with a cape or cloak for your outdoor Halloween fancy dress party around the bonfire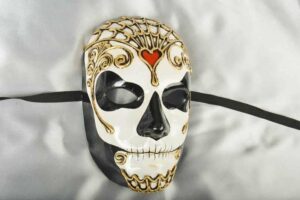 The day of the Souls, is an annual Mexican celebration, for remembering our loved ones who have passed over, known as the DÍa de Muertos festival.
The Day of the Dead festival is not the Mexican equivalent of our Halloween. Although it takes place around Halloween, on 1st and 2nd of November, which is All Saints' Day and All Souls' Day on the Catholic calendar, it is held to keep alive the memory and spirit
Just like Halloween, the Day of the Dead festival is a social celebration where dressing up is all part of the fun. Pair these Day of the Dead masks with a suit or fancy dress. Choose from a skull mask, the male or female full-face masks or the half-face Colombina mask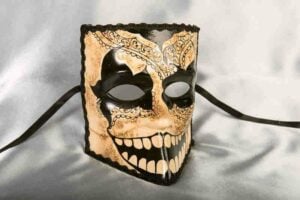 Halloween is a dark night of terror and mischief and these masks, all with the signature bat eyes, say just that. Notte Oscura, Italian for dark night, are the perfect Halloween mask for your masquerade event. Choose from half face, full face, cat or the popular Bauta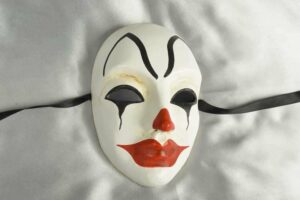 The scary clown is well known in many Halloween films, lurking in the background waiting to pounce. Some of you may know the Clown face girl from The Purge movies, but all of you will have heard of Pierrot.
A stock Venetian character from the Commedia Dell Arte, Pierrot was a sad clown. He was in love with the beautiful Columbine, who broke his heart, by leaving him for Harlequin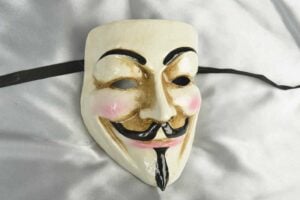 Guy Fawkes Masks
This mask has several names, Guy Fawkes mask, Anonymous mask, or Vendetta mask, all synonymous with demonstrations and protesters
Guy Fawkes, who was the most famous member of the Gunpowder plot, attempted to blow up the House of Lords on 5th November 1605. In current times this mask has been used to cover the face of protesters, usually against the establishment, making them anonymous
Also known as the Vendetta mask made famous by V, the revolutionary leader in the comic book series V for Vendetta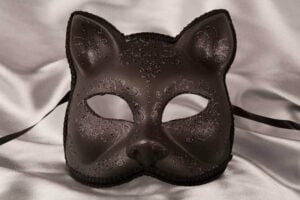 CAT MASKS
In the Middle Ages, it is thought that witches would disguise themselves as black cats, leading to cats being associated with witchcraft. Cloaked in superstition the cat has now become a popular option for Halloween fancy dress masquerade event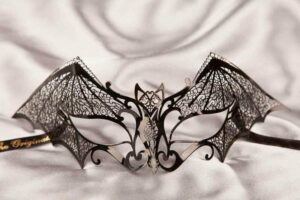 Halloween is synonymous with haunted houses and the trademark bat hanging in the corner. These Pipistrello, Italian for Bat, masks are made from filigree metal, and laser cut for easy wearing at your Halloween masquerade party. Don't forget our Dark Night masks which, although not bat-shaped, are decorated with bats around the eyes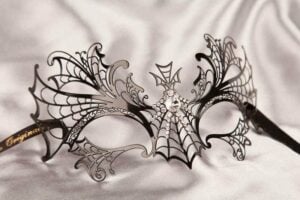 Halloween haunted houses are full of spider webs. Found in dark corners where it is thought the ghosts can be found lurking. The Ragnatela, Italian for Spider, masks are laser-cut fine metal in a lace effect, mimicking the spider's web
If you found this helpful then please share it, if you have other suggestions to add then please email us, or click here if you want to see all our Halloween masks