MASQUERADE HAIRSTYLES – CHOOSING THE RIGHT ONE
It goes without saying that the mask is the most important part of any masquerade costume, but the right hairdo can completely transform your look – which is why it's always worth taking a little time to consider the many ways in which you could style your hair before the big event.
In fact, we'd recommend thinking about your hairdo before looking at dresses or trying to choose accessories. This is because your chosen hairstyle can have a huge impact on your final look, and can completely overshadow the most carefully coordinated of costumes if chosen incorrectly.
WHAT DO YOU WANT YOUR HAIRSTYLE TO EMPHASISE?
One of the most important considerations is, of course, what you want your hairstyle to achieve. Your choice will change depending on whether your priority is adding height, emphasising the elegant nature of your getup, or trying to frame a particularly bold mask for maximum emphasis.
It'll also change depending on the shape of the mask you've opted for. After all, you wouldn't want to combine a very complicated/elegant hairdo with a feathery mask like the Cigno Fiore which would undoubtedly steal most of the attention away from your painstaking handy work
WHAT ABOUT COLOUR AND LENGTH?
You'll also need to think carefully about coordinating colours if you have brightly dyed hair: a lot of brightly coloured masks clash with purple and red hair, both of which are popular choices at the moment, and pairing a white mask with grey or lavender hair all but guarantees a very insubstantial look that lacks the contrast needed to create real energy.
When it comes to length/hair type, it's important that you consider the amount of volume that you can achieve, and the height at which any curls will sit if opting for a very elaborate
In other words, picking the right hairstyle can be a bit of a minefield! And things only get worse when you start digging a bit beneath the surface and realise that there are literally a million and one ways that you could style your hair.
That said, there are a few mainstays that always work. We've collected 5 of our favourite styles below, and included a bit of a description of the outfits, styles and masks we'd couple them with.
All of the masquerade hairstyles showcased below have been chosen for their broad appeal, their easy execution, and their suitability to formal occasions of all types: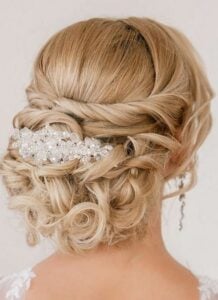 Hairstyle #1 – The Chignon 
This fantastic do is ideal for creating instant red-carpet elegance. It also goes with a huge variety of masks; acting as the sleek accompaniment to minimalist pieces, or highlighting the beauty of masks like our ivory lace mask.
One of the best things about the chignon is that it'll go with almost any dress; from scoop-backed party frocks right through to jewel-encrusted ball gowns. It's quick and simple to do too, which makes it ideal for first-time ballgoers with a lot of other things on their minds.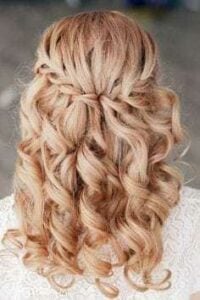 Hairstyle #2 – The Waterfall Braid
Perfect for those of us with longer hair, the waterfall braid is a flowing and relatively eye-catching hair-style that's ideally suited to pairing with simpler, plainer mask designs. It does a lot of the heavy lifting itself, in the sense that it'll turn heads without the need for a gaudy mask, and it's also very easy to do.
If you're attending a less formal soiree, this hairdo is a very good way to flaunt convention and create a slightly more relaxed look too, particularly if paired with a simple, mono-coloured dress.

Hairstyle #3 – The Side-Bun
Add a touch of 1920s glamour to sequin-rich outfits with this hairdo, ideal for people with medium/short hair. The main benefit of the side-bun is that it instantly conjures up an air of distinguished elegance, reminiscent of turn-of-the-century parties, or formal dinners at the Ritz.
Because it sits quite low against the jaw, this style is also perfect for pairing with quite showy masks, like the items in our luxury masks category, which it will frame perfectly.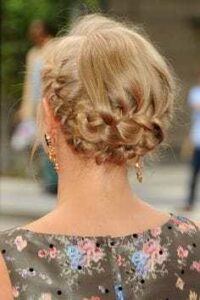 Hairstyle #4 – The Double Braided Updo
Ideally suited to more relaxed masquerade balls, this hairstyle adds a touch of bohemian elegance to your costume, and is ideal for pairing with simple masks like the Colo Swarovski.
The double braided updo is also perfect if you have medium/short hair, and is very versatile – it works paired with simple dresses, and elegant off-the-shoulder party frocks too. The only thing to note is that it might not be a particularly good fit for very formal masquerade balls, as it lacks the elegance of styles like the chignon.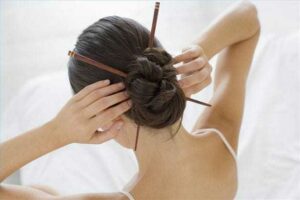 Hairstyle #5 – The Pinned Bun
This hairstyle offers you a fantastic opportunity to show off any centrepiece accessories and is ideal if you have a beautiful hair pin to complement your outfit. Because it is quite a showy style, we'd normally recommend pairing it with quite simple masks, but if your accessory and your mask work in concert, there's no reason not to go all out and pair it with something more extravagant.