THROWING A MAGNIFICENT MASKED BALL WEDDING
It's not always easy coming up with unique wedding ideas – after all, just about everything you've ever thought of has been done before, and there's a fine line between creative and cliche. Of course, that doesn't mean that you can't do something special that your guests have never seen before – at Just Posh Masks, we think that the idea of throwing a masquerade ball at your wedding is one that you and your guests are sure to remember forever.
As masked ball experts, we're here to give you a few pointers if you're in the planning stages of the big day.
Now, before we delve into the details, you might be interested to find out that masked balls at weddings are not actually a new idea. Back in the 14th century, Charles VI of France held such an event for the wedding of one of his Queen's ladies-in-waiting. Unfortunately, this evening, in particular, went down in history for all the wrong reasons – a reveller accidentally started a fire on the dance floor, killing several guests. Plan your wedding well, however, and you'll have nothing to worry about!
Masquerade balls are all about luxury, style, and of the utmost importance, fun. Keep this in mind throughout the planning stages and you'll have an enviable event on your hands. In this article, we're going to look at how you can organise and incorporate masks into the wedding, and how to go about choosing them, and then we'll give you some resources to get you started.
EVENT ORGANISATION
There are of course lots of ways that you can introduce the style of the Venetian carnival into your wedding. You could simply hold a masked ball at the reception, or you could extend the theme throughout the whole day. The choice is yours, but there are a few things to think about.
Keeping the theme running for both the ceremony and reception will certainly make for a spectacular wedding, and you'll have a consistent look through all of your photos. This will however mean a little more coordination throughout, particularly if your ceremony and reception aren't in the same place. It's also worth noting that the drama of the masquerade works much better in the evening onwards.
The extent to which you embrace the classic style of the masquerade ball is also entirely up to you. Some will choose to go with the full theme of the venetian carnival, but most will go for a more restrained approach; retaining most of the traditions of a classic wedding, but with some hints of masquerade fun.
The choice is of course yours, but try to decide on your theme and organisation early on – this will really help the planning further on.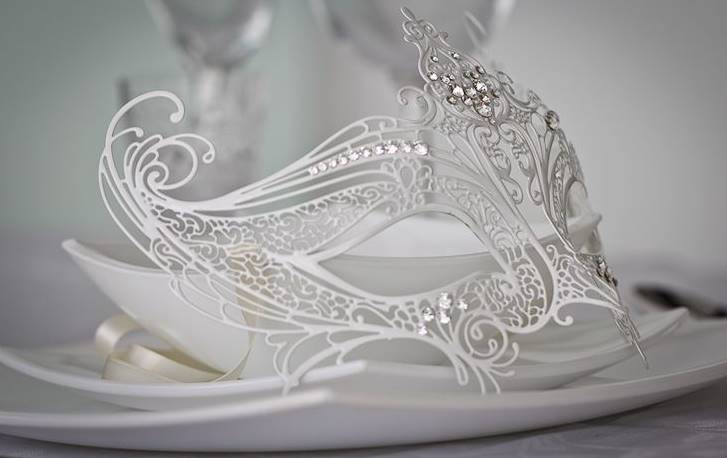 CHOOSING YOUR MASKS & COSTUMES
FOR THE WEDDING PARTY
Most planners will want to keep the wedding party in matching or complimentary outfits, and this is no different for a masquerade ball. Choose your colours as you normally would, and then pick the outfits and masks from there. There are lots of options here – if you want to keep things mostly traditional, then you can match monochrome masks with classic black and white dresses and evening wear. We've not yet seen a wedding in full venetian garb, but there's still time yet!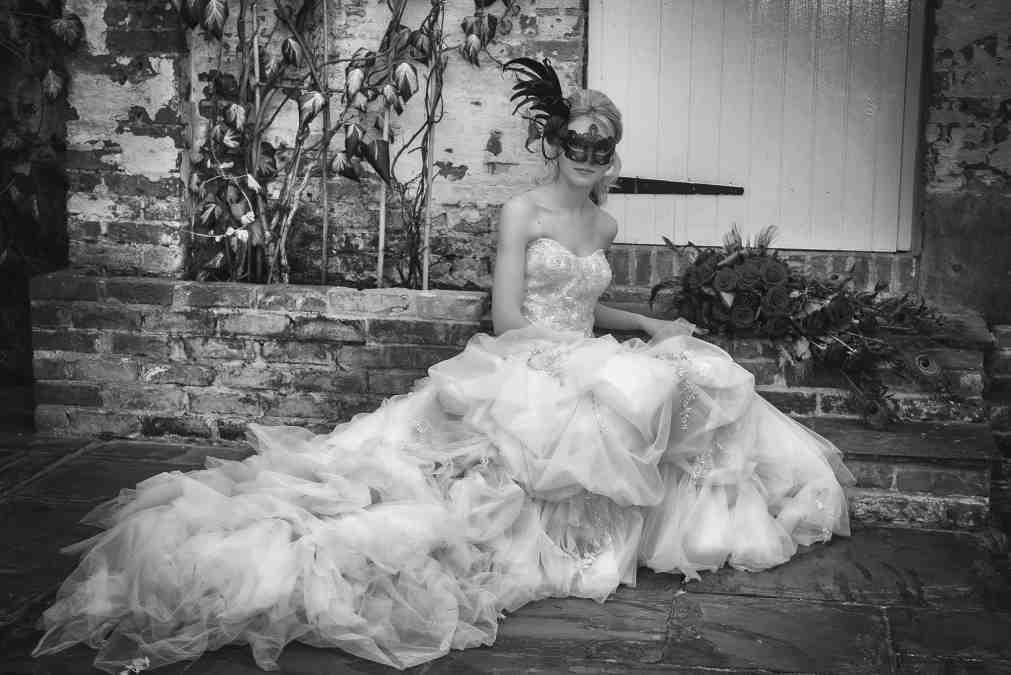 Traditionally, one of the big themes at a masked ball was, to a certain extent, hiding one's identity during the revelry. This isn't something we'd necessarily recommend at a wedding where people are going to want to get to know each other. As a result, we'd recommend sticking with some of the less clandestine masks that are available, particularly if you want to wear the mask for an extended duration. Our metal lace masks, such as the one below, are popular for weddings for this very reason. This style was originally conceived, legend has it, for beautiful women who didn't want their faces completely covered! They're also extremely elegant, and match wedding outfits very well indeed.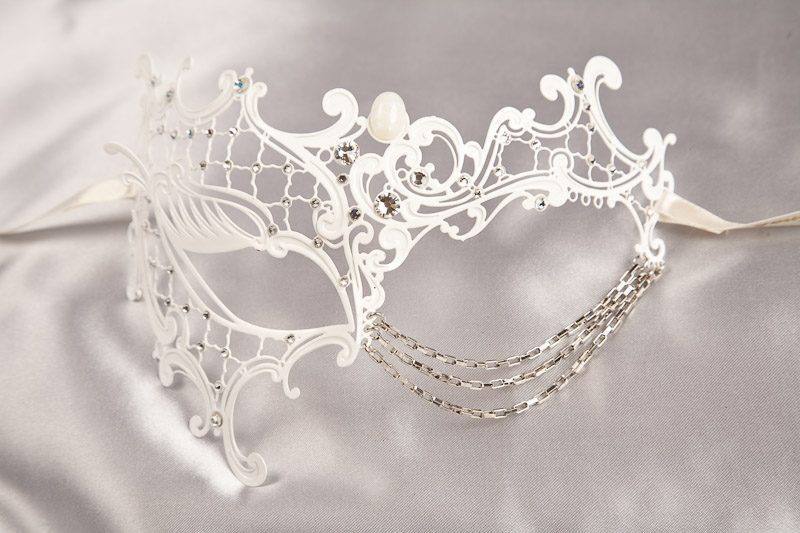 For the bride and groom themselves, our range of couples' masks could be perfect. This way you'll both have matching but slightly different masks. We've got plenty to choose from, including this black and blue option below where the brides mask has feathers added: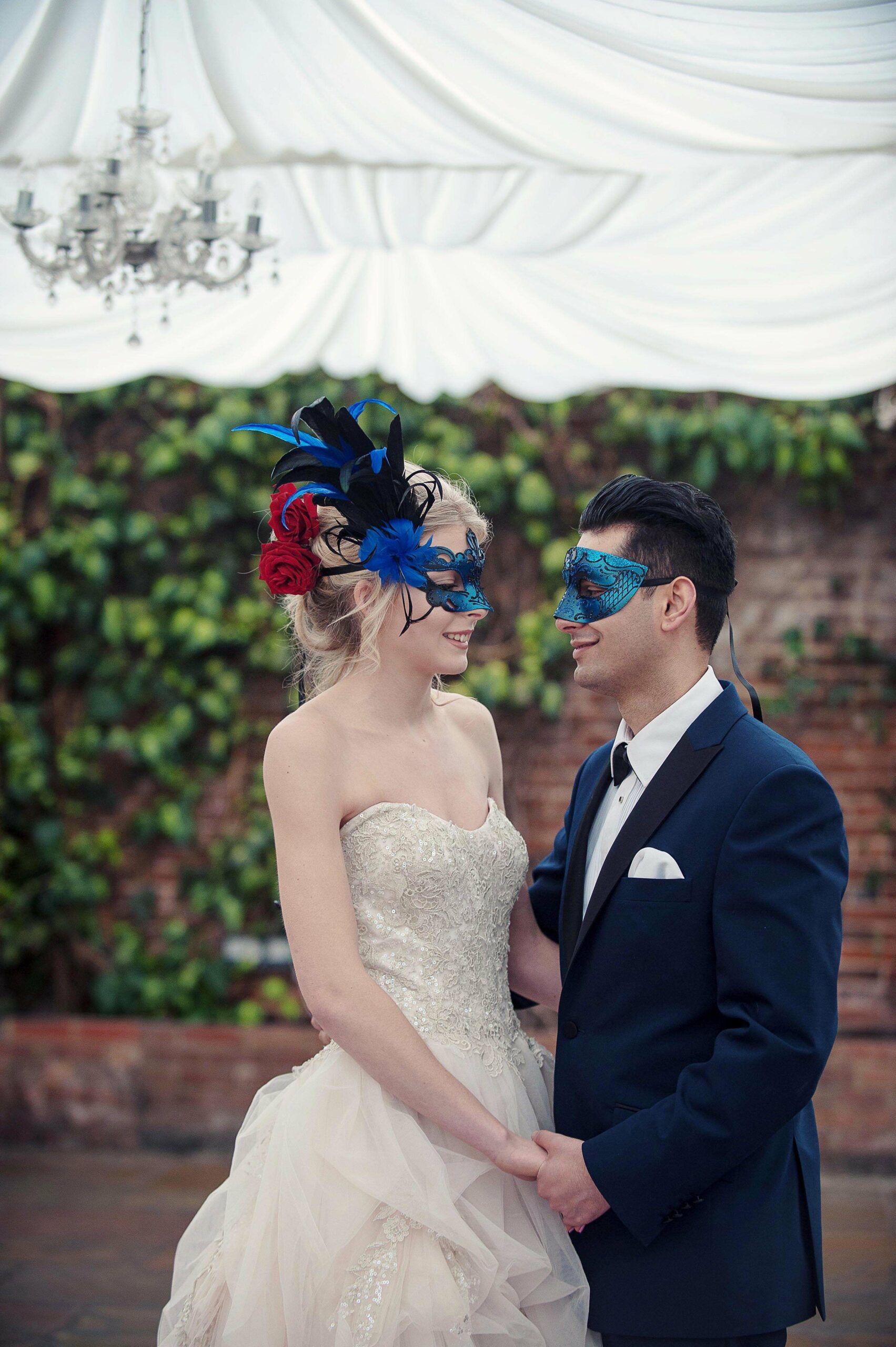 When it comes to bridesmaids, you may choose to put them in coloured masks – our Macrame mask, for instance, comes in lots of colours, which is perfect for matching with their dresses.
A final touch to the wedding party could be to add one or two masks on sticks to the bride's bouquet. This is a lovely way of incorporating the theme, and unlike flowers, masks will last as a memento forever!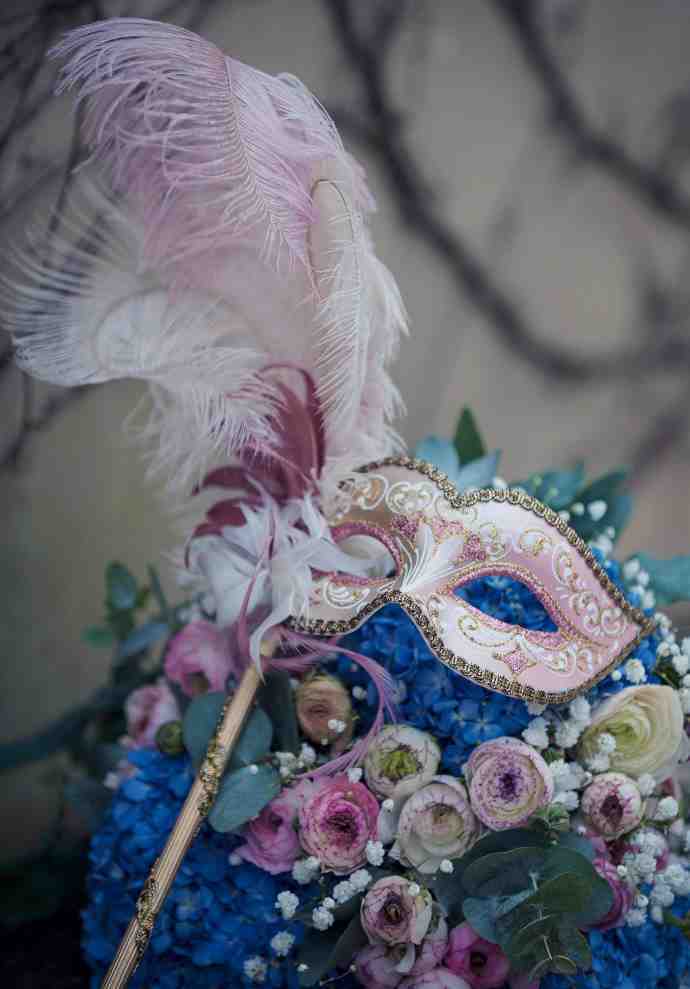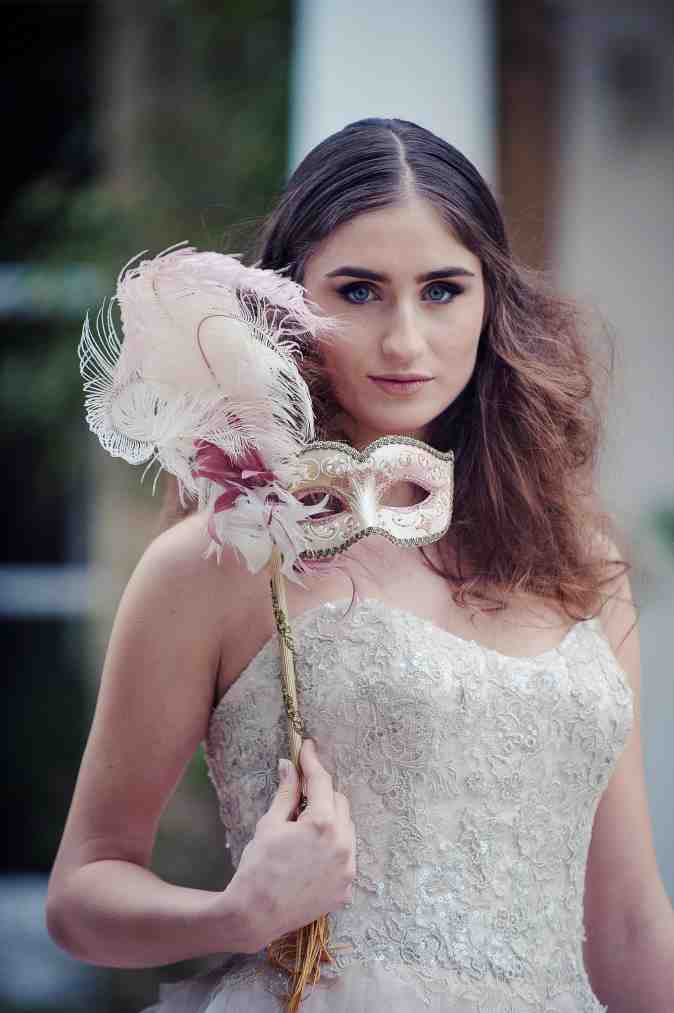 FOR THE GUESTS
There are several routes that you can go down when recommending masks to your guests. You can either give them complete free reign to pick whichever mask they like, or you can give them set instructions on colour or style.
Alternatively, you can supply masks to the guests yourself. This works best if you're going to put them on the tables during the toast or reception, or on the seats just before the ceremony. You can order large quantities of masks from us with sticks attached that are perfect if you just want people to be able to don a mask for photo opportunities and dances.
DECORATIONS
Whether you're going with a full-blown Venetian carnival theme, or you're just having a masked ball in the evening, decorations will go a long way to capturing the right atmosphere. Think drapes, feathers, velvet and other luxurious appointments. Use the links at the end of this article to get some inspiration for how you want things to look.
One idea that we've seen is to include masks on sticks at the tables – they can either be used by guests, or they work fantastically as pure centrepieces when arranged elegantly. We think you will agree from the image below that using masks to decorate the Top Table gives a real WOW factor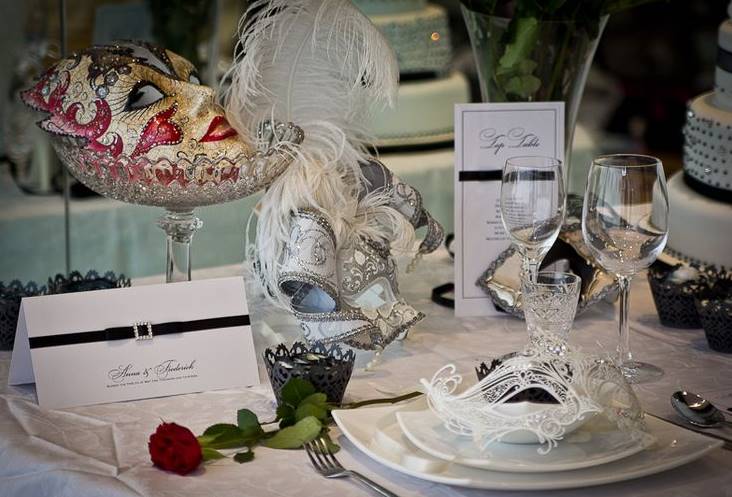 If you're really looking to make an impact, you can hire out giant masquerade masks to be used around your venue or even as wall decorations
LINKS AND RESOURCES
If you're putting the majority of your wedding together yourself, then you'll need a helping hand in sourcing masks, decorations, and more. Fortunately, we've gathered together some resources here to make things easier for you:
Masks:
You'll find all of our most popular wedding masks right here, but browse the whole site to see what's available. After all it's your wedding, and you can choose whichever style and colour you want! If you're lucky enough to have a creative streak, then you may also be interested in our ready-to-decorate masks.
Contact us if you would like a Wedding Code, which will enable your party and guests to benefit from a group discount. This way you are sure that your guests will look the part in some of the best masks around on your special day.
Decorations:
If you're looking for help with your decorations and atmosphere, then there are a variety of companies out there to help you. Steel City Events hire out just about everything you might need for your wedding, and can even help with the setup. Theme-Works can also supply giant masquerade masks for ballrooms and any other area you've got in mind for your wedding.
Inspiration:
Pinterest is a great resource for finding inspiration if you're in the planning stages of your wedding. Explore the masquerade wedding section on the site to see what people are pinning.
We also recommend taking a look at weddbook.com and using their search function to see the masquerade-themed clothing and decorations that other people are using at their weddings.
If you've got any more questions about our range of masks, or you'd like to talk about the suitability of a masked ball for your wedding, then email tracy@justposhmasks.com and we'll be delighted to help. If you've got any recommendations for this article, then we'd love to hear those too!
Finally, thanks to Sarah London Photography and Jennifer Sinclair Photography for our stunning images. Links below if you are looking for a wedding photographer
www.sarahlondonphotography.co.uk