CHOOSING YOUR MASK AND COSTUME FOR THE DC COMIC CHARACTER GREEN ARROW
When do you want to add an air of mystery, what better place to start than the brooding heroes and villains of DC comics?
With a recurring theme of hidden identity, comic book and graphic novel characters are barely without a mask; from troubled heroes fighting to protect their friends and families from their double life to villains operating above the law with the help of elaborate disguises.
Take masked crusader Green Arrow, who made his DC comic book debut in 1941, and who has seen multiple reinventions in print and on TV in the proceeding decades. Not dissimilar in visual style to folk legend Robin Hood, the original Green Arrow classically wears a forest green hood and simple mask to conceal his identity – that of wealthy businessman Oliver Queen.
Part of the Justice League, the Green Arrow spawned many reboots and appeared in TV animations, before making live-action debuts, first in Superman spin-off series Smallville and more recently, in his own series Arrow, which first aired in 2012.
Despite several make-overs throughout the years, the Green Arrow's latest incarnation has gone back to the character's Robin Hood roots – a look that can be easily achieved with a plain hooded top in black, grey or dark green, accessorised with a leather-look ammo belt from your local fancy dress store. For extra drama, try layering a collarless leather biker jacket over your hoodie to get a tougher Arrow look.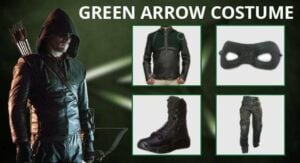 And of course, no Green Arrow look is complete without a mask. The hero's style is a simple, oval eye mask, like the Hero Black Leather Superhero Mask, or for something more striking and modern, the Colombina Cuoio half-face black leather mask is a great way to make the Green Arrow look your own.
For women looking to channel the hero's simple signature mask style, we can look to a 1950s Green Arrow storyline for inspiration; a plotline where socialite Diana Dare shows her dark side after being poisoned, becoming Queen Arrow – a villain styled after the Green Arrow himself. It's a look that re-emerged in the TV series, when DC's Black Canary was brought to life in the form of Sarah Lance – aka the Canary – the assassin sister of Arrow's ex-girlfriend, who also wears a simple superhero eye mask. Fans of the TV show can also style themselves on Arrow's half-sister Thea Queen, who takes inspiration for her alter ego Speedy's look from the hero's simple eye mask and hood style – try a berry red close-fitting biker jacket over a thin, draping cashmere or wool cowl hood top for a feminine take on the eponymous hero's style.
But it's not just the lead heroes who can provide mask inspiration; there's an entire 'Arrowverse' to choose from, with great looks for men and women. For a similarly simple look, but with a burst of colour, the Flash could be your inspiration. A fellow member of the Justice League, who also got his own TV show in 2014 following the character's appearance in the Arrow TV series, the Flash dresses in flame-orange with a simple, angular mask in a matching hue (try the Colombina Grezzo, painted in your chosen colour, for something plain yet striking). The Flash's overall aesthetic might be harder to recreate unless you're prepared to wear head-to-toe orange Lycra, but for a nod to the Flash, try a zipped-up burnt red leather or PVC jacket, with trousers or chinos in as close a shade as you can find. With a major movie adaptation said to be in the pipeline, now could be your chance to get ahead of the game with a Flash-inspired masquerade look.
To upgrade your mask for something more dramatic while sticking to a simple single colour, look to comic book and TV show regular Curtis Holt aka Mister Terrific. Known for his ability to pick up new skills and knowledge quickly and easily, the inventor and athlete wear a mask that protects him from chemicals and technology. In the shape of a black T which covers his eyes and face, it's a striking look which could be hinted at with the Quadra luxury leather mask – a great choice if you have to wear a mask to an event but don't want anything too elaborate. This is a great costume choice if you're a keen motorcyclist, as bike leathers are the perfect match for Mister Terrific's superhero suit.
For a look that's more intricate while still taking inspiration from the Arrowverse, try channelling John Diggle, the Arrow's bodyguard Spartan in the TV show, who can often be seen in a futuristic half-face visor mask. A Joker mask might not be quite as futuristic as Spartan's high-tech protective gear, but it does offer half face coverage and, in an elegant black and gold colour combination, creates the drama and mystery that's central to Spartan's character. Add a plain black t-shirt, black biker jacket and dark coloured combat trousers for a modern military look.
Villains are the ideal inspiration if you're looking for a full-face mask, with Green Arrow nemesis Deathstroke – a character who appears in both DC comics and the live action TV series – the ideal choice if you prefer a darker, more edgy look. An assassin and international terrorist, Deathstroke hides his everyday identity, that of mercenary Slade Wilson, behind a futuristic, angular mask. For a Deathstroke-meets-Venetian style, the gold traditional Bautu mask hints at modern metal, providing plenty of menace but without going all-out comic book villain. Pair it with a close-fitting long-sleeved black top and trousers, overlaid with BMX knee and shoulder protectors in yellow for a DIY mechanoid look. When his mask is removed, Deathstroke sports an eye patch, so keep one in our pocket so you can stay in character when the mask comes off.
Baddies aren't the only ones who the Bautu style works for. Mayor of Oliver Chase's Star City, Adrian Chase, morphs into the mechanoid Prometheus to help the Arrow clean up their town, in both the comic and TV versions. Though something as robotic as Prometheus' full metal helmet might not be appropriate for a formal event, the gold leaf Bautu mask with a choice of coloured detailing, is striking and modern, despite its traditional roots, with the blue colourway providing a particularly robotic look. A simple, dark-coloured hooded top, criss-crossed with leather-look ammo belts completes the look.
For masks inspired by Green Arrow characters but with added embellishment, try thinking outside the box. For example, to channel the hero's former love interest, Black Canary, add drama and glamour with a feather-embellished style paired with a simply, slinky black dress. For a subtle look, go for the Semplice Piume Plain, or for maximum impact, try a style like the Moulin Rouge full-feathered mask.
If you've got an artistic streak, there's always the option of creating your own mask inspired by your favourite characters, or you could even make up your own using the Green Arrow, his supporters or enemies, as the starting point for your designs. A simple full-face mask like the blank white Volto Grezzo allows you to create a strong character look that's unique to you. Or if you want to channel the Green Arrow but need a colourway to match your outfit, try decorating the Batman Grezzo in a single block colour that coordinates with your outfit.
Simple or intricate, there's a way to incorporate the spirit of the Green Arrow into your next cosplay event.
Just Posh Masks would like to thank DeAnna Davis @ItsRainingNeon @ItsRainingNeon for her excellent portral of Green Arrow